A stunning Ministry of Defense (MoD) report circulating in the Kremlin today states that the United States has refused to repatriate the bodies of 13 Central Intelligence Agency (CIA) military operatives killed when their helicopters were shot down by pro-federalist forces on the outskirts of Slavyansk, eastern Ukraine this past Friday.
According to this report, on 2 May the Anti-Aircraft Artillery Battalion of the 25th Separate Dnipropetrovsk Airborne Brigade of the Ukrainian Army, which had defected to the side of the pro-federalists in April, fired upon and downedtwo Russian made Mil Mi-17 transport helicopters belonging to the Ukrainian Air Force that had been attempting to land CIA military "command and control" operatives into the battle zone of Slavyansk.
Of the 14 CIA military operatives aboard the two Mil Mi-17's, this report continues, only one survived, who was initially identified as Captain Savuilov [photo 2nd right], but whose subsequent questioning revealed him to be an employee of the American mercenary company named Greystone Ltd.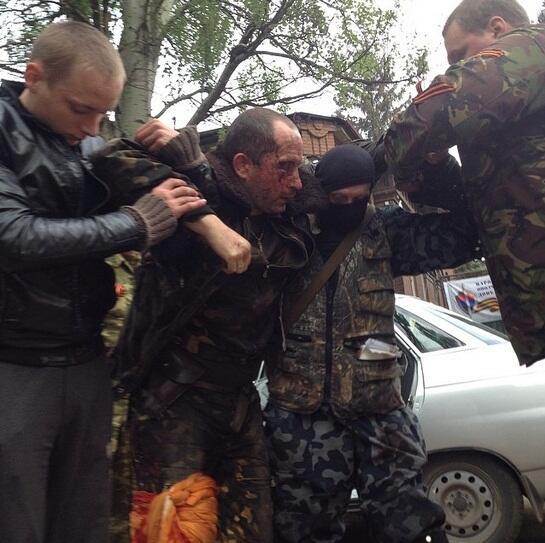 Greystone Ltd, this report notes, states that it "provides the skilled professionals and program management services necessary to deliver rotary wing, protective security and training solutions to customers in challenging environments", but had previously been warned about byForeign Minister Sergei Lavrov who stated last month: "There were reports, as you know, that some several hundreds of [agents from] the private military organization called Greystone were detected to arrive in Ukraine from the US. We'd like this also to be investigated."
Sadly, this report says, this CIA/Greystone survivor of these two Mil Mi-17's being shot down, like his 13 dead compatriots, was, likewise, abandoned, and as reported from the scene by a member of the self-defense forces in Slavyansk who stated: "His troops abandoned him. I thought they would take him away in another helicopter, but they just took his pistol from him and flew away."
As to the CIA directing the war operations against pro-federalist forces in eastern Ukraine, this MoD report says, their remains no doubt as a representative from Slavyansk's self-defense movement reporting from the battle zone said, "When using radios, activists have heard English several times on the air…this is direct proof of the participation of foreigners in the retaliatory operations against Slavyansk."
Germany's highly influential Bild Newspaper this morning further confirmed the CIA operating in Ukraine, this report says, noting that in the middle of last month, CIA Director John Brennan arrived in Kiev on a top secret visit that Washington initially denied. The following day, Verkhovna Rada interim Speaker Alexander Turchynov announced a large-scale counter-terrorist operation in Ukraine's southeast.
As to the CIA's "strategy" in eastern Ukraine, MoD analysts in this report note, is to "instill complete terror" among the peoples in this region as they and their Greystone counterparts are deploying feared Right Sector neo-Nazi forces into the battle zone that pro-federalist forces say are acting strangely, as if they are under the influence of some drugs.
To the success of this CIA "strategy", this report says, one need look no further then the events in Odessa this past Friday when Right Sector forces firebombed the House of Trade Unions killing dozens of pro-federalist activists, but which the Western media is still refusing to allow their people to know the full and brutal knowledge of.
And with Vasyl Krutov, head of the Ukraine's anti-terrorist center, stating earlier today that the increased fighting in the east did not appear to be short-term, but "essentially a war," this report warns, it "remains a fact" that the CIA will order more atrocities to occur as the Obama regime has done in all of their other war zones.
And as to the Obama regimes repeated "lies" that Russia is directing the pro-federalist forces in eastern Ukraine, this report concludes, even the New York Times was forced to admit yesterday that resistance fighters defending Slavyansk in eastern Ukraine are armed with weapons identical to those in the hands of Ukrainian soldiers, and they are all citizens of Ukraine.
And as quoted from the New York Times reporter, who spent a week at the headquarter of the 12th Company, part of People's Militia of the Donetsk People's Republic: "Much of their stock was identical to the weapons seen in the hands of Ukrainian soldiers and Interior Ministry special forces troops at government positions outside the city. These included 9-millimeter Makarov pistols, Kalashnikov assault rifles and a few Dragunov sniper rifles, RPK light machine guns and portable antitank rockets, including some with production stamps from the 1980s and early 1990s. Many of the weapons show signs of long service. Militia members said their weapons had either been taken from seized police buildings and a column of captured Ukrainian armored vehicles, or bought from corrupt Ukrainian soldiers."
With forces in the east of Ukraine fighting for the federalization of the country having regained control over the cities and townships of Konstantinovka, Slavyansk, Andreyevka, and Kramatorsk today it, and sadly, remains a fact that more Americans will die in this conflict…but who will claim their bodies still remains a mystery.